Who Called Android Mobile App – Template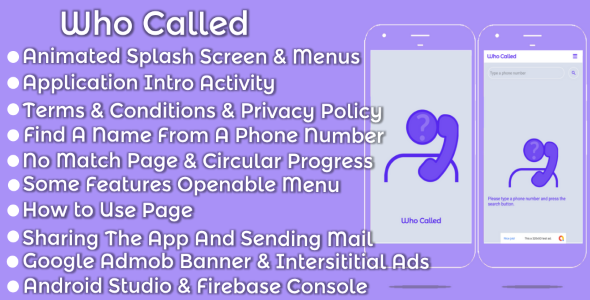 "Who Called" is a service for finding a caller, finding a name from a phone number, learning who owns a known number. This project was created by iXa Studio and all rights reserved. With this application you can learn a number that calls you or you can learn the name from the phone number and how people save you in their directory. GetContact is a TrueCaller-like application. It is a universal application and can be used by all world countries !
Customers who purchase the project with PayPal can receive free technical support + unlimited updates + personalization and custom software support.
To buy with PayPal (40$);

You can check the online document by clicking on the picture below.
Online Document;
For more information and to purchase with PayPal, go to the project page by clicking on the link below.
Project Website;
You can download the demo application from Play Store by clicking the picture below.
In order for this application to meet the needs of users, many people need to download the application.
For example; In order to store 1,000,000 telephone numbers in the database, an average of 5,000 people should download this application. This is quite easy.
Moreover, after you purchase this project, you do not need any software knowledge to edit and create your own application. Thanks to online documents and videos, even people without any software knowledge can create and publish their own applications.
Customers who purchase through Envato Market will only benefit from free technical support and unlimited update support during the initial creation of the application.
No programming knowledge required. It has a document that has clear and easy instructions. You can create your own application in 45 minutes. It's easier than you think.
You can also review our other projects.
You might be interested in