PaperPro – Rich Android Wallpaper App Template
Modulio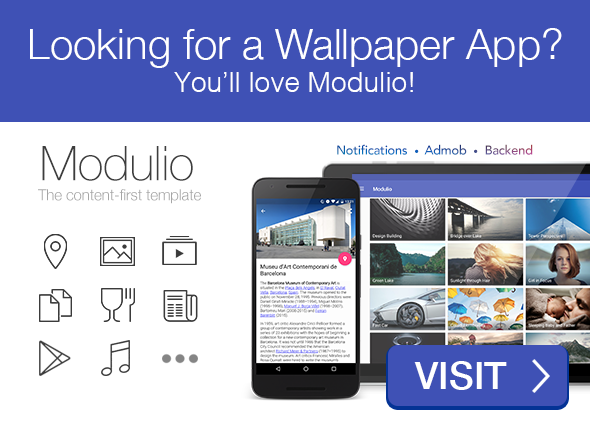 Modulio is just like PaperPro, just more powerful, better & completely redesigned. Check out Modulio now to create an amazing Wallpaper app & more!.
Check it out >
PaperPro


Template Features
Beautiful Dynamic UI Interface designed using the Android Design Guidelines to create an intuitive UI. Different layout on tablets for optimal screen usage.
Offline Wallpapers Save your favorites wallpapers offline to switch them wherever you are.
Effects Editor Everyone is different! Customize your wallpapers with many effects.
Tags and Sorting Discover amazing new wallpapers using tags, or have look at similar wallpapers. You can also sort your wallpapers based on popularity, date and name.
Download Tracker Keep track of your wallpapers, know which wallpapers are the most popular!
Efficient Core Manage your memory and keep the app smooth. Set wallpapers using multiple methods.
Admob Easily configure Admob and turn it on and off.
Sharing Share your (edited) wallpapers with your friends.
Settings, Rating and About About dialog, user configurable settings and a Rating link.
Panel Features
Use any Image Upload an Image with any resolution on any location
Efficient Networking Thumbnails are automatically created. You can also use external wallpapers to save bandwidth.
Wallpaper Details Provide tags and description for your wallpaper.
File Management Manage the wallpapers on your server, delete files and entries.
Secure and Easy Set up a reliable environment with our Installer.
Setup
Setup becomes a breeze with our easy documentation! You can have your App up and running within 30 minutes. It does not matter if this is your first app, we even provide instructions on how to set up your pc!

Questions
If you have any questions regarding this template, you can always ask your question in the comments section or you can contact us at [email protected]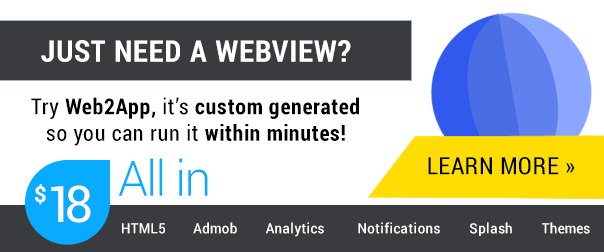 Support
For support, you can go to our special support website: sherdle.com/support
Requirements
A PHP 5.3 (or up) webserver with MySQL, this can be obtained for free at various hosting companies.
A Windows, Mac or Linux based device with Eclipse. No Android device required
Changelog
V1.0
-Initial release
V1.03
-Panel Bug Fixes
-Application Bug Fixes
-Application loading experience improved
V1.1
-Mass Import
-GridView (column view) for wallpapers
-Overall Bug Fixes

You might be interested in