Frey – Contemporary Architecture & Portfolio WordPress Theme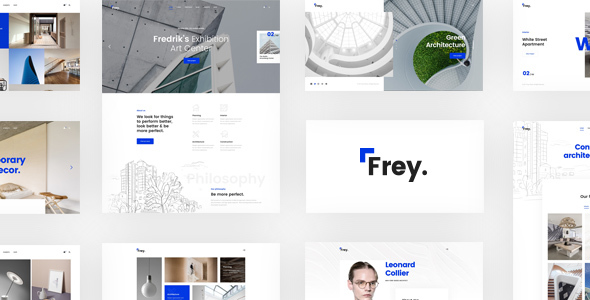 An architectural firm needs to communicate professionalism and reliability – character traits that any prospective client will be looking for.
Fortunately, Frey is likely to push people in the right direction. It is somewhat architectural itself; featuring clean, symmetrical lines and crisp colors. It is functional and professional without being too plain and reflects the brand of an accomplished architectural firm.
Key Features
Free WPBakery Page Builder ($45)
Free Revolution Slider ($25)
Smooth CSS3 Animation
Unlimited Footer
Responsive
Retina Ready
Blazing Fast Loading Speed
Tons of Awesome Icons
Premium Support Service
Quick and Easy Installation with one click
Highly Responsive and Customizable
WordPress 4.0+ Tested and Approved
Built with HTML5 and CSS3 code
Cross-Browser Compatibility: FireFox, Safari, Chrome, IE11+
User Menu and Main Menu Support
Flexible Colors & Typography
Abundance of Awesome Images
Smooth Scroll
Changelogs
Version 1.2.4 – Dec 30, 2019
1. Updated: WPBakery Page Builder 6.1
2. Updated: Revolution Slider 6.1.5
3. Updated: Insight Core 1.5.5.2
4. Updated: WPBakery Page Builder (Visual Composer) Clipboard 4.5.4
5. Updated: Out-date template files. Compatible with Woocommerce latest version v3.8.0
6. Fixed: Preset when update Insight Core

Version 1.2.3 – Jul 25, 2019
1. Updated: WPBakery Page Builder 6.0.4
2. Updated: Revolution Slider 6.0.6
3. Fixed: Shortcode to compatible VC 6.x.x
4. Fixed: Smooth scroll in Chrome - v.73.xx

Version 1.2.2 – May 06, 2019
1. Updated: Out-date template files. Compatible with Woocommerce latest version v3.6.2

Version 1.2.1 – Apr 03, 2019
1. Updated: Revolution Slider 5.4.8.3
2. Updated: WPBakery Page Builder (Visual Composer) Clipboard 4.5.1

Version 1.2.0 – Feb 27, 2019
1. Updated: Out-date template files. Compatible with Woocommerce latest version v3.5.5
2. Updated: Revolution Slider 5.4.8.2
3. Updated: WPBakery Page Builder 5.7

Version 1.1.9 – Jan 16, 2019
1. Updated: Revolution Slider 5.4.8.1
2. Fixed: Contact form 7 scripts not loaded properly for original shortcode

Version 1.1.8- Dec 13, 2018
 
1. Updated: Insight Core 1.5.4.5
2. Updated: Compatible with WordPress 5.0

Version 1.1.7 – Dec 05, 2018
1. Updated: WPBakery Page Builder 5.6
2. Updated: Out-date template files. Compatible with Woocommerce latest version v3.5.2
3. Fixed: Multiscroll on mobile

Version 1.1.6 – Nov 2, 2018
1. Updated: Compatible with WooCommerce 3.5.1
2. Updated: Insight Core 1.5.4.1

Version 1.1.5 – Sep 17, 2018
1. Updated: WPBakery Page Builder 5.5.4

Version 1.1.4 – Sep 04, 2018
1. Fixed: Compatible with WooCommerce 3.4.5
2. Fixed: Bug warning

Version 1.1.3 – July 16, 2018
1. Updated: Revolution Slider 5.4.8
2. Updated: WPBakery Page Builder 5.5.2

Version 1.1.2 – June 09, 2018
1. Updated: Revolution Slider 5.4.7.4
2. Updated: Compatible with WooCommerce 3.4.2

Version 1.1.1 – May 22, 2018
1. Updated: Revolution Slider 5.4.7.3

Version 1.1 – Apr 19, 2018
1. Updated: Content import
2. Updated: Social sharing
3. Updated: Post like
4. Fixed: Minor CSS bug

Version 1.0 – Apr 18, 2018
Released

You might be interested in